Looking for a tool to efficiently manage your internal food safety audits, in view of the FSSC 22000 certification? You are in the right place!
What is the FSSC 22000 Food Safety system?
The Food Safety System Certification FSSC 22000 is one of the newest schemes in the food industry. It is designed to ensure food safety from manufacturing to distribution and is managed by the Foundation FSSC 22000 and its 127 accredited certification bodies. This certification is recognized by the Global Food Safety Initiative (GFSI), which provides worldwide recognition and acceptance by food manufacturers and retailers.
The FSSC system provides companies in the food supply chain with an ISO-based food safety management system. ISO-based means that it integrates nicely with other management systems, such as ISO 9001 for quality management and ISO 14001 for sustainability.
To prepare for ISO and FSSC 22000 certifications and prove you have an effective food safety system, you will need to conduct regular internal audits.
Efficient FSSC 22000 internal audits
Regular internal audits are a great tool to spot issues early and improve standards. Additionally, it allows you to integrate food safety in your processes, involve all your stakeholders, and be ready for unscheduled external inspections.
Choose a simple food safety inspection app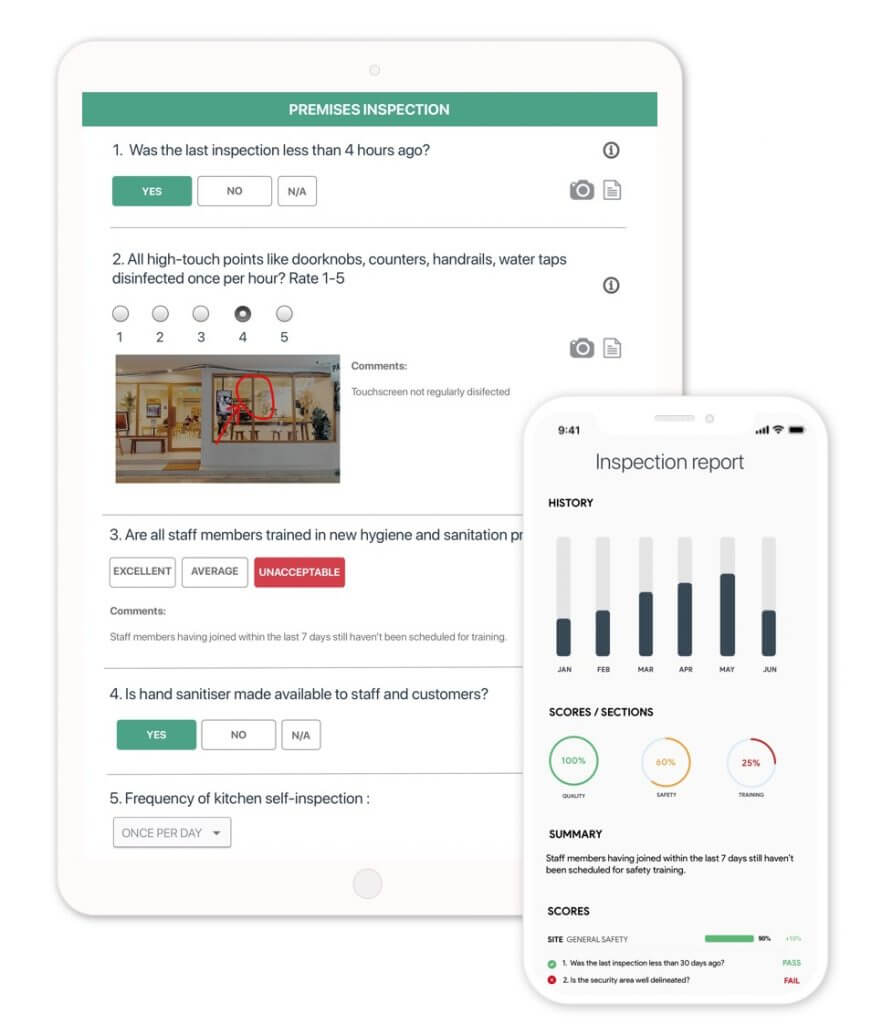 It is therefore key to make the inspection process as painless as possible. Hundreds of food manufacturers and distributors use the GoAudits food safety inspection app to manage their standards:
Digital checklists customised to each user, available on any mobile device for an easy inspection anytime.
Smart behaviour: mandatory questions or evidence attachments, if/then logic, automatic time-stamps and geo-tagging, etc.
Instant reports: simply generate a neat report at the end of each inspection and automatically email them to the right people
Corrective actions: when you find an issue, immediately assign a task to the right person to correct it, and easily track completion.
Analytics: get unprecedented insights on dynamic dashboards. See trends by location or over time, and spot any recurring issues.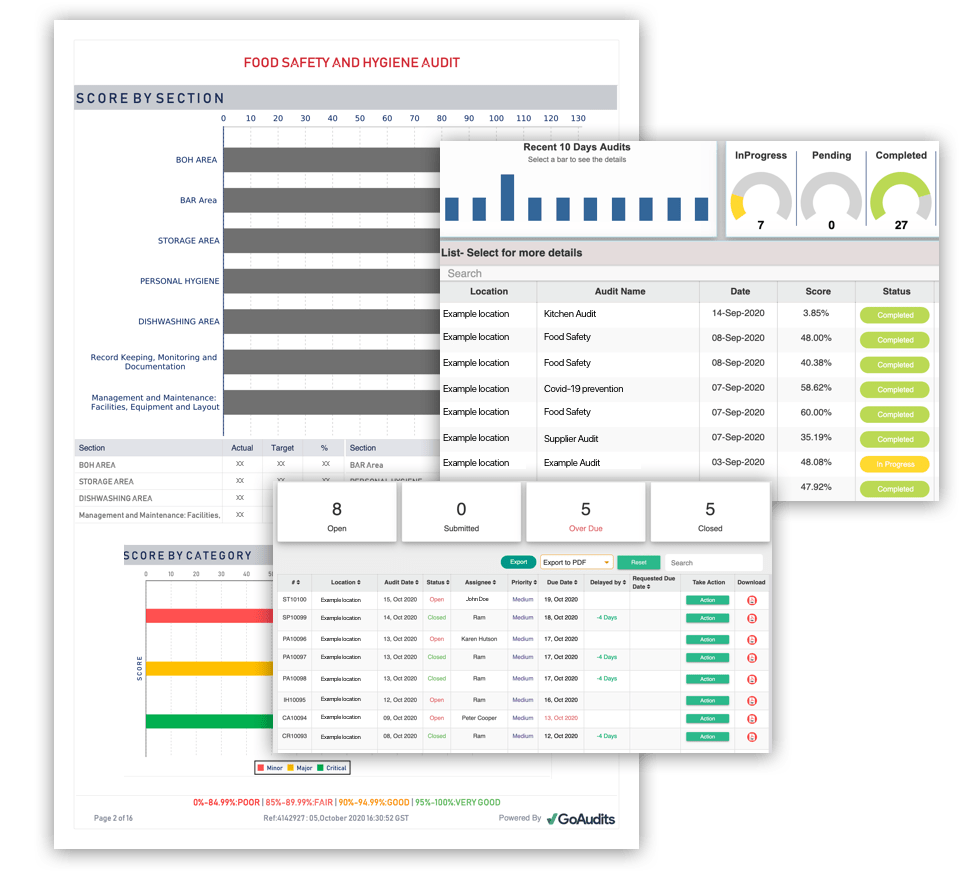 Library of food safety inspection checklists, including FSSC 22000 internal audits
Learn more about GoAudits food safety auditing solutions for food manufacturers, restaurants & catering businesses, and grocery retailers.
We offer a library of food safety inspection checklist templates for different quality management systems – simply click here to view them.
Our library of food safety checklists includes templates to inspect due diligence with regards to various safety and quality management standards:
BRC food safety checklist and site standards checks
GMP Good Manufacturing Practices checks for food industry
Critical figure 8 checklist for food safety and hygiene
ISO standards audit checklists: ISO 9001 for quality management, ISO14001 for sustainability
Food preparation safety and equipment checks
FSSC 22000 internal audit checklist
Kitchen inspection checklist
Restaurant visit report checklist
Food preparation hygiene checklist
Food safety in hotels checklists
Daily shop checks
MBWA management by walking around food safety checklist
Various food safety self-inspection checklists
… and many more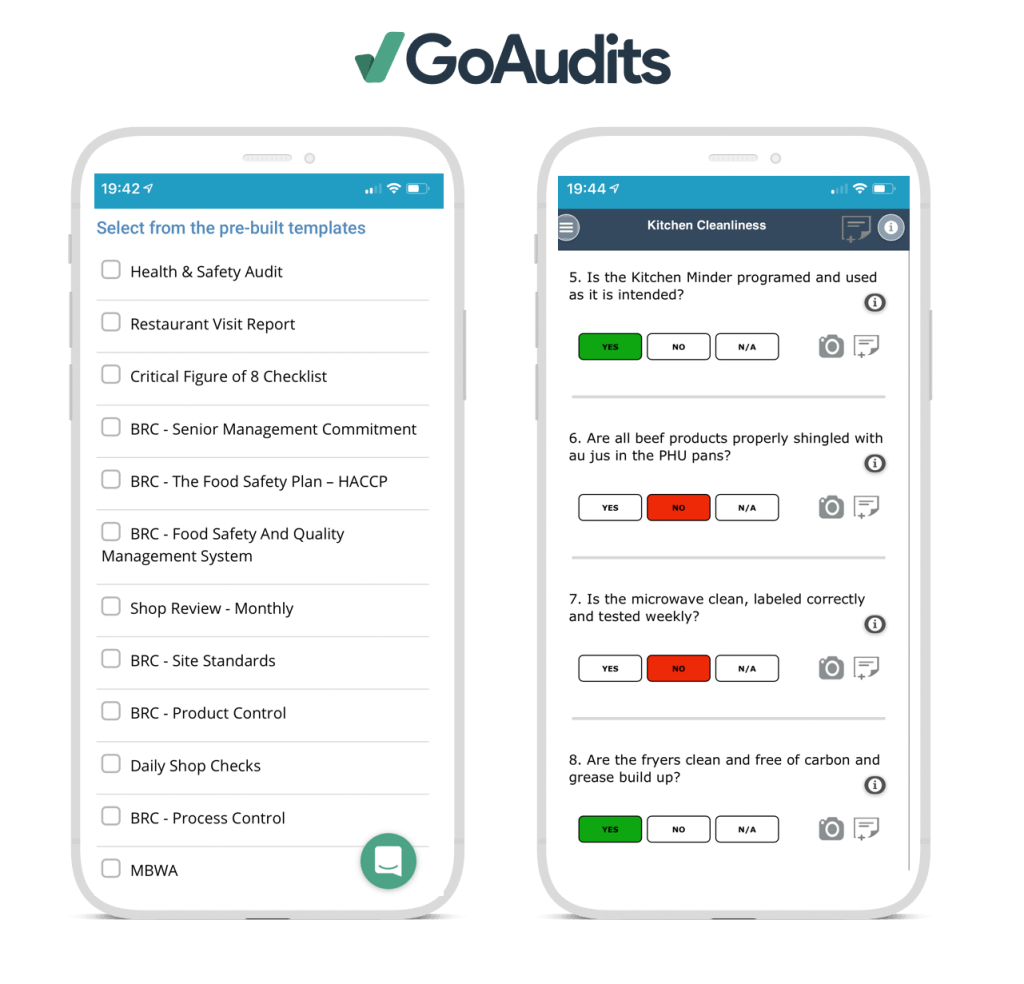 We offer a free 14-day trial so that you can test digital inspections and see the benefits for yourself.
You can easily customize our existing checklist templates to your organization's needs with our Admin portal. Alternatively, we can help you upload your existing food safety inspection checklists – at no cost.
Simply download the GoAudits food safety inspection app to get access to these checklists. Try digital inspections with your team for free – we can even help you configure everything, at no cost!