Every incident, accident or near miss provides an opportunity to review your processes, make changes or train the teams – to ensure your people are as safe as possible. Making it easy and quick for your team to report incidents is an essential element for success. A mobile app will make your incident reporting quicker and more consistent.
Mobile apps: the efficient way to report incidents
To ensure workplace safety, it is important to report any incidents or near-misses as soon as they occur. Documenting and recording evidence immediately after the event has occurred, onsite and while any witnesses and involved individuals are around, will provide invaluable data to improve everyone's safety. It will be particularly useful if a follow-up by insurance or the government is needed.
The easiest way to achieve this? Make your incident reporting possible via a mobile app.
Mobile app for incident reporting
Immediate evidence recording
Most businesses already use some kind of paper or digital forms to record incidents across their facilities. However any delay to retrieve the forms means potential loss of important information. A witness to the incident, a person who was involved in the incident, or personnel who arrive quickly on the scene, can provide the most accurate information about the event that occurred. With the forms available on anyone's mobile phone or work tablet, the incident can be logged immediately and shared with the right teams in real-time.
Safety officers or any other present employee can quickly fill out a digital form to provide a full picture of the incident. Directly from the incident site, they can quickly record data such as location, cause, affected employees and witnesses.
Easy to use tool to gather and share incident data
Using a mobile app also means that users can easily snap evidence pictures and attach them to the report on a click. This saves a lot of time for everyone, and improves quality of documentation. A native mobile app is user-friendly and easy for anyone to use. In 2 seconds, the user can generate a full report and automatically share it with the right team members.
Automated notifications by email ensure that those who need to be informed are notified, instantly.
All the latest data in one place
If reporting requirements change, the system administrators can easily update the forms anytime. Employees will always be able to retrieve the latest updated form, stored on the cloud. Customize the incident reporting form for a variety of needs: worker compensation, location services, medical treatment and other important accident report and injury details.
How many incidents or near-misses take place across your different sites or teams? With all the information securely stored online and searchable, you can easily analyze it using smart dashboards. With your incident data stored in one place you have real-time information at your fingertips, helping you to make the right decisions to make the workplace safer for everyone.
GoAudits incident management software
The GoAudits Incident Report mobile app provides a simple way to record details about a workplace injury or a job site accident, using a smartphone or tablet. The solution includes powerful desktop tools and dashboards for incident management.
There are many types of incidents. Using the Incident Report app, your teams can log them in real time as they occur: capture a photo, enter the basics of what happened and ensure the right people are notified. Incidents such as injuries, security, property damage, environmental, quality, safety observations and hazards can all be reported from the app.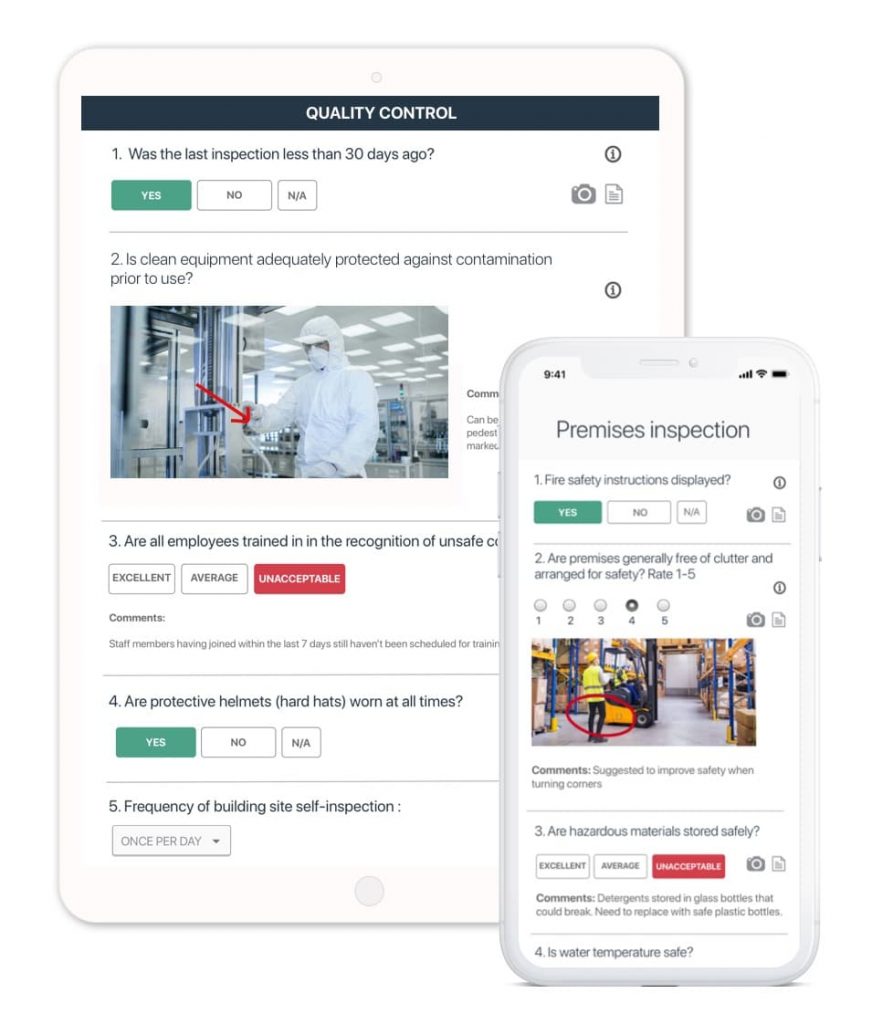 GoAudits is used by thousands of professionals across different industries: manufacturing, construction, health&safety consulting, facility management and more. They use the GoAudits mobile app to electronically record incidents, log near-misses, but also conduct proactive audits. The app helps them ensure consistent standards every day across all their locations and teams.
Moreover, the data collected allows thorough analysis to help identify where the next incident is likely to occur. You can associate a more detailed Root Cause Analysis or a Risk Assessment to an incident, helping you drive an even safer working environment.
Key features of the GoAudits incident logging app:
Smart digital forms: use our incident recording templates and customize them to the exact needs of your business
User-friendly mobile app accessible to everyone, even offline, on all Android and Apple devices
Easily collect more accurate data: e-signatures, GPS location, time-stamps, images…
Custom reporting: from individual incident reports to automated quarterly summary reports
Integrated action tracking: immediately after an incident, create and assign corrective and preventative actions (CAPAs)
Advanced data analysis and tracking of actions: admin users can see and compare all the data in one place across the entire organisation
Library of checklists for incident logging and proactive health & safety inspections
Learn more about the GoAudits mobile inspection app.

Book a discovery session and get a FREE TRIAL to see if GoAudits is right for your business.