Are you responsible for Good Manufacturing Practices (GMP) auditing and quality control in your company? Then you know how important it is to have the right tools. Software can be a huge help in managing these processes more efficiently. In this blog post, we will discuss how the GoAudits mobile app and digital checklists can help streamline GMP audits and quality control. We'll also provide a checklist of features to look for when choosing software for your business.
What is GMP?
GMP or Good Manufacturing Practices is a set of guidelines that manufacturers must follow to guarantee that manufactured products are safe for human consumption or use. Many countries have established GMP rules and guidelines that match their legislation, in order to protect the general public from harm.
The GMP guidelines most commonly apply to food and beverage, cosmetics, pharmaceutical products, dietary supplements, and medical device industries. GMP covers all aspects of production from the starting materials, premises, and equipment to the training and personal hygiene of staff:
People: roles and responsibilities, appropriate training
Products: thorough testing from starting materials to packaging
Processes: defined and controlled manufacturing steps that ensure consistency
Procedures: detailed Standard Operating Procedures, good documentation, regular checks and batch records
Premises: cleanliness, hygiene standards, correct equipment, eliminating cross-contamination or accident risks
GMP standards are not prescriptive. It's a set of performance-based requirements, for which each manufacturer sets up their own quality control processes. This means creating detailed written procedures, essential for each process that could affect the quality of the finished product.
Enforcement of GMP standards is ensured by specialised agencies such as Food and Drugs Administration in the US, European Medicines Agency and other national agencies.
GMP audits: best practices for operational checklists
GMP compliance not only improves the reputation of manufacturing firms, but it also cuts batch recalls and negative feedback from customers. A GMP audit is a process by which a quality assurance specialist or auditor reviews the procedures and operations of a manufacturing facility to ensure that they meet the GMP guidelines. The purpose of the GMP audit is to identify any areas in which the manufacturer needs to improve their compliance with the guidelines.
At the operational level, GMP audits may include annual evaluations of the whole quality management system, but they are also made up of on-the-job daily inspections by the Quality team embedded in the production line. Additionally, all staff have to be trained and aware of GMP requirements.
Such frequent checks and training the whole team on the production floor can quickly become an administrative burden. Paper checklists or spreadsheets can get easily lost and can be tricky to retrieve when needed. With data scattered in different sources, is also hard to see an overview or historical trends.
Digitizing your GMP audit checklists with a simple software
In order to streamline GMP audits and quality control, many businesses are turning to GoAudits, a mobile app that allows users to create digital checklists and easily collect data from the production line.
Nissin Foods, the manufacturer of Cup Noodles, implemented the GoAudits auditing app to manage quality control, product and packaging integrity checks, facility inspections and more. The app is very easy to use for production staff and the audit completion rates significantly improved after the introduction of the app. Eddie Odie, the Quality Control Manager explained: "We are now averaging over 96% completion ratios for our GMP audits. With the ability to immediately email the report to the relevant parties, we get real-time information that allows our supervisors to sign-off corrective actions and resolve any issues much quicker than before."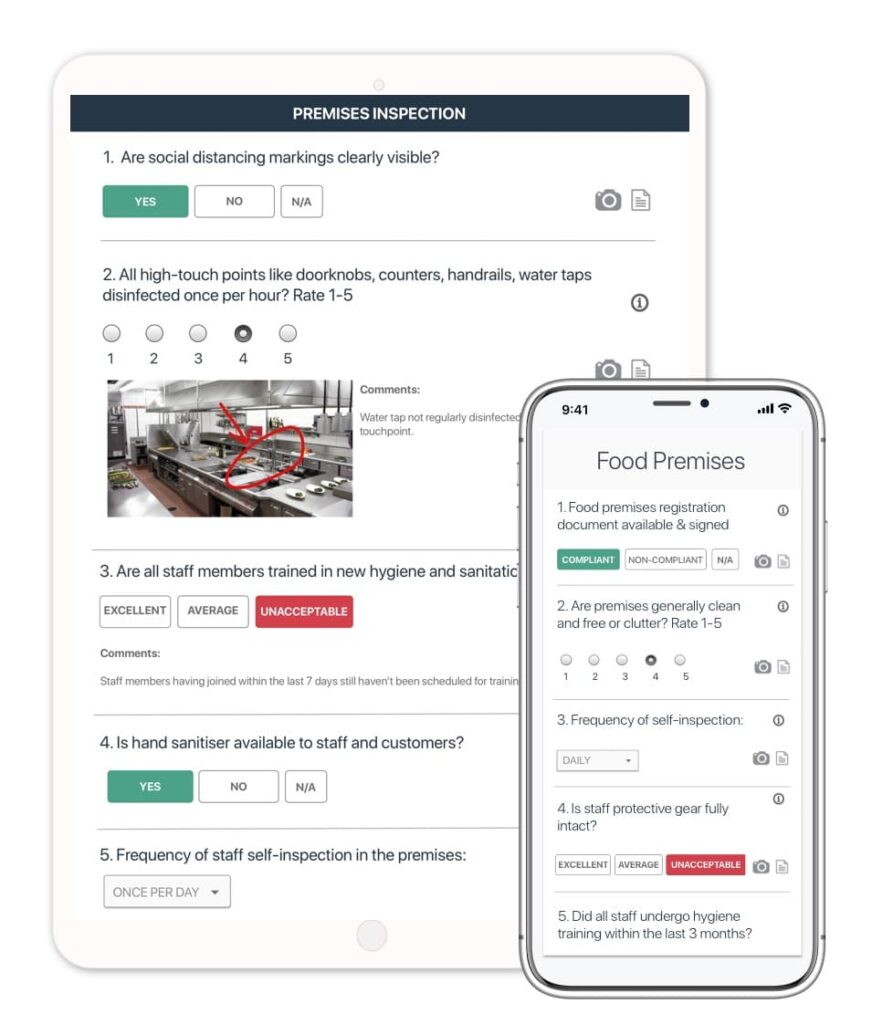 When it comes to choosing software for your GMP audits and quality control, there are a few important features to look for. Here is a checklist of what to look for:
The ability to easily create and manage customised checklists.
Automated reporting features to accelerate resolution of non-compliance
Task management and workflows to take Actions in case of non-conformance
User-friendly and simple interface to maximize adoption
Summary reports and dashboards that allow to uncover additional insights and improve processes
Additionally, GoAudits offers a library of GMP and other audit checklist templates to get started quickly. Our customer support service can also help digitise your existing checklists during your 14-day free trial.
---
Learn more about GoAudits functionalities: GoAudits for Manufacturing.
Download the app today or book a discovery call with one of our GMP experts: click here to claim your free trial.