Goodwill drives improvements in retail operations across 100+ locations
Goodwill of North Georgia is a US non-profit organization, part of the worldwide Goodwill network. With over 3000 employees in Georgia, they collect and sell donated goods across 55 donation centers and 67 stores.
All proceeds are used to run community job training and placement programs, supporting tens of thousands of disadvantaged Georgia job seekers. The facilities management business also provides jobs for more than 200 people with severe disabilities.
Atlanta, Georgia – United States
The mission: improving lives by helping put people to work
The non-profit organization Goodwill of North Georgia manages 100+ stores, donation centers and other sites across the state. They receive a constant flow of donations including clothing & accessories, housewares, furnitures, books, appliances and more. This requires a structured way to receive, sort, clean, distribute and present goods in stores – in a way that boosts revenues.
Running efficient operations and ensuring a consistently great guest experience is crucial to maximize resources dedicated to Goodwill's ultimate mission: improving lives by helping put people to work.
"Lots of time establishing plans, too little time executing…"
Goodwill teams inspect all 100+ locations on a regular basis, to check compliance with internal standards for store appearance, guest experience, inventory, financials, health & safety requirements and more. This involves dozens of auditors, as well as collaboration across multiple teams with different objectives: stores, operations, marketing, compliance and HR.
Before implementing GoAudits, Goodwill's teams were mostly using Excel spreadsheets to capture audit information. "This was not the most efficient way to collect and analyze data to improve our business operations", says Kartella Fuller, Director of Operations & Guest Experience at Goodwill.  "We used to spend too much time establishing plans and too little time executing them – which was not great for business."
The Goodwill team selected GoAudits for its comprehensive platform, flexibility and advanced reporting tools, which met their custom requirements.  "GoAudits enabled our diverse approach to capture and analyze data. Their support team has been very accommodating and took onboard our specific practices in reporting. That is a great plus when choosing a provider company," explains Kartella Fuller.  
After testing GoAudits in one division, the Goodwill team saw its potential to streamline operations in many more areas. Very soon, GoAudits was rolled out to 5 additional divisions and is now used for regular inspections, follow-up checks and annual reviews in over 100 retail stores and donation centers.
Checking facilities, merchandising, customer service and Covid-19 prevention measures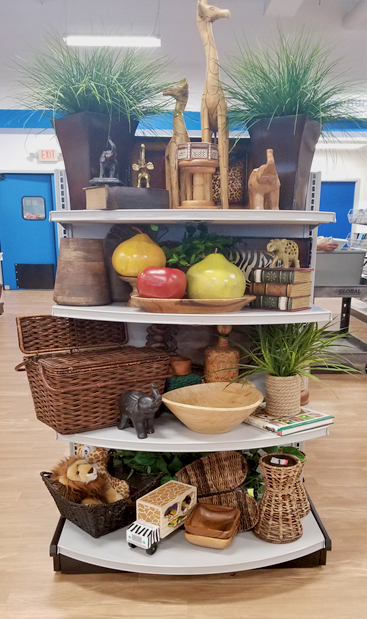 Various checklists are used to assess store appearance, merchandising, donation processing, stock management, fire safety, guest welcome, staff training, financial performance and more. In the first year of use, dozens of auditors conducted over 1400 inspections and store visits, checking 46,000 points and logging 3200 corrective actions. That's over 3800 points checked and 260 corrective actions assigned and tracked each month! A process that ensures quicker issue resolution, better visibility for the management team and ultimately improved business standards.
Responding to the Covid-19 challenge, the team was able to quickly adapt inspection checklists and roll them out to all stores. This was used to monitor store compliance with social distancing signage, sanitation and other measures.
"We appreciate the easy-to-use app, analytics & reporting"
For the team members conducting the audits, the best part was the convenience and simplicity of the mobile app that replaced spreadsheets. The highlights included the ability to access the app from any mobile device or computer, to immediately attach pictures and to log corrective actions in one place.
On the other hand, the management teams particularly appreciated the detailed analytics and reporting tools that give them better visibility and control. The interactive dashboard in the admin portal allows to keep track of the 260+ monthly actions logged by auditors. Custom summary and weekly reports were specifically designed for Goodwill, empowering the managers to instantly view performance trends in a given period of time, area or type of location. "As the system administrator, I really appreciate the advanced analytics and reporting", explains Kartella.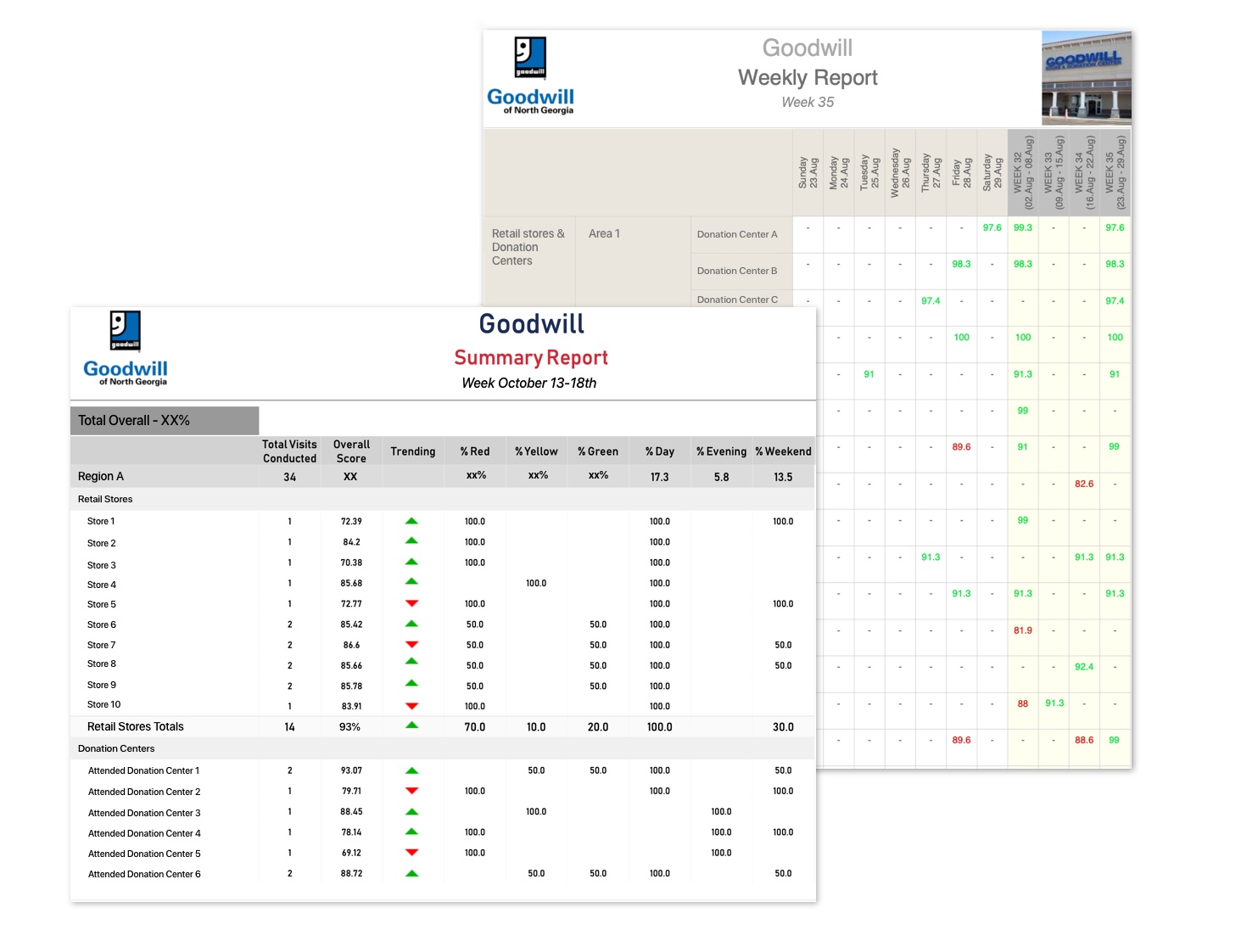 1000+ hours saved each year, consistency and operational improvements
Moving away from spreadsheets and emails has enabled many efficiencies for Goodwill's teams and operations. "Using GoAudits saves us at least 20 hours a week across different teams, especially when it comes to writing action plans – because everything is now done in one place," says Kartella. This represents over 1000 hours or an estimated $20,000 of direct savings each year  – simply by making the inspection process more efficient.
The improvements in business operations facilitated by GoAudits may be harder to quantify in $ terms, but are equally compelling. With clear audit scores and action plans, the store teams know exactly where to put efforts in order to drive up standards and customer satisfaction. "GoAudits gives us consistency in collecting data, setting up action plans and driving their execution. Ultimately, we are much better equipped to improve results in our business operations," says Kartella. 
"I have thoroughly enjoyed working with GoAudits. The team has been very accommodating and consistently responsive. As the administrator, I am looking for more ways to use the system and streamline our business".
With GoAudits we save at least 20 hours a week across different users, especially writing action plans, as now everything is done in one place.
I have thoroughly enjoyed working with GoAudits: the team has been very accommodating and consistently responsive. As the administrator, I keep looking for more ways to leverage the system and streamline our business.
Director of Operations & Guest Experience
Goodwill of North Georgia

We are confident that our product will speak for itself: let us set you up, at no cost.
Try the full platform 14 days with your own data.